Book Order
Little Tin Heart, A Memoir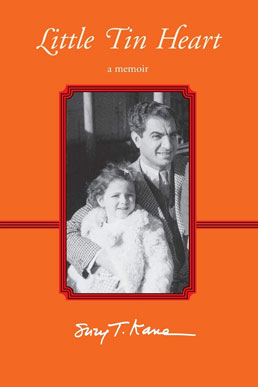 An excerpt of Little Tin Heart, A Memoir, entitled "Misadventure in Montclair" won honorable mention in the Alex Albright Creative Nonfiction competition and publication in the North Carolina Literary Review Online 2017. Author and playwright Jim Grimsley, who judged the competition, said, "There is something wonderful about the honesty of this piece . . . ."
"Kane is a devastatingly honest writer . . . a sharply written and fascinatingly introspective work. Self-assured, daring writing that holds nothing back."
—KIRKUS REVIEWS
"Little Tin Heart may technically be a memoir, but it reads like the best of American novels—compelling scenes filled with fascinating details, complex characters, and the narrative flow of a literary artist."
—DANIEL KLEIN
Coauthor of New York Times bestseller Plato and a Platypus Walk into a Bar and author of the Times bestseller Travels with Epicurus in London.
You can purchase Little Tin Heart at Amazon